[ad_1]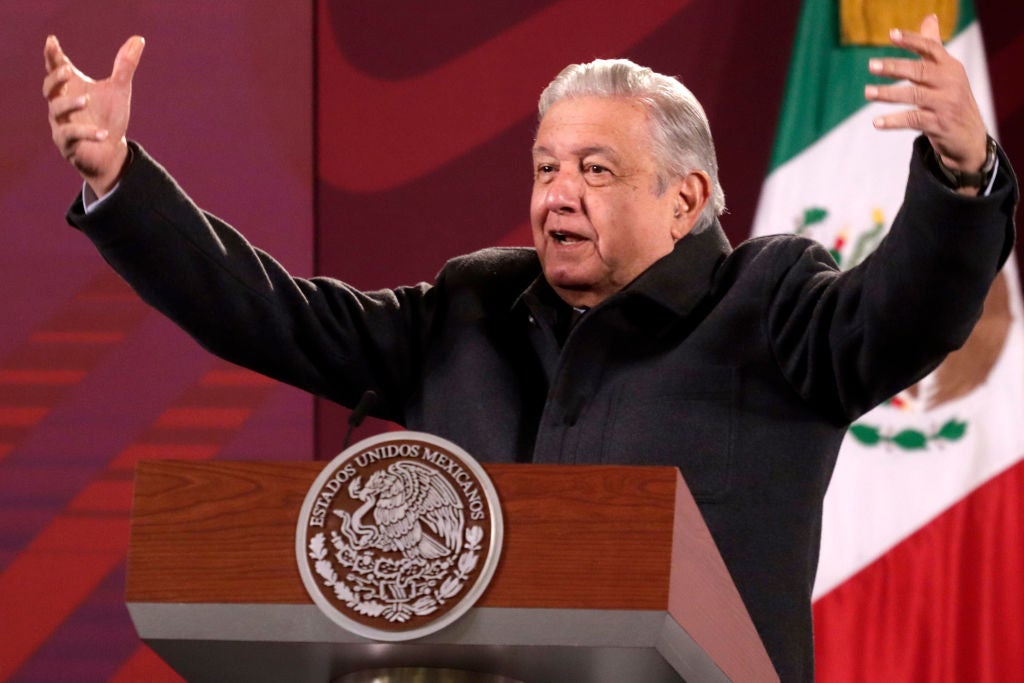 Mexico has some of the best economic fundamentals of any Latin American economy, but uncertainty over the government's economic agenda is undermining its investment climate.
The country's economy was hit hard by the Covid-19 pandemic and contracted by -8.3% during 2020 but rebounded by an estimated 6.2% in 2021, and is forecast to surge by 4% in 2022, according to the International Monetary Fund (IMF). The Fund estimates that total GDP will amount to $1.37trn (27.84trn Mexican pesos) during 2022, above the pre-pandemic level of $1.26trn in 2019. With a population of 128 million people and a geographic area of 1.97 million square kilometres, Mexico is one of the biggest countries in Latin America (in comparison, Argentina has 45.3 million inhabitants and an area of 2.78 million square kilometres). Income per head in Mexico is estimated to be $10,540 in 2022, up from $9,299 in 2010. 
Mexico received a total of $18.43bn in foreign direct investment (FDI) inflows during the first six months of 2021, a drop of 23.2% on the same period of 2020. FDI inflows totalled $29.1bn in 2020 compared with $32.9bn in 2019 – a decline of 11.7% – according to Mexico's Secretariat of Economy. The total stock of FDI was estimated at $597bn in 2020. Experts say that 'nearshoring' offers the country huge opportunities. International companies are considering shifting their manufacturing bases from China to Mexico, so that they are closer to the gigantic North American market.
The country's GDP contracted by -0.4% during the third quarter of 2021 compared with the previous quarter, and Banco de México, the country's central bank, cut its 2021 growth forecast to 5.4% from 6.2%. Foreign capital outflows of Mexican debt totalled $12.6bn in 2021, slightly higher than in 2020 and the highest amount since the data was first recorded in 1992, according to Banco de México. The value of government securities held in foreign hands declined 13.6% in 2021 – 1.7% higher than in 2020 – the biggest annual decline since the year 2000, according to Banco Base, a Mexican bank.
Economic growth averaged only 1.96% between 2015 and 2019, in which year the economy fell into a mild recession, according to the IMF. 
During the Covid-19 pandemic, Mexico stood out in Latin America as its government was not prepared to mount an economic stimulus of the magnitude of other countries in the region. Its stimulus plan – including a mix of loans and tax credits, tax payment deferrals and job training – amounted to only 1.1% of GDP, compared with 8.4% in Brazil and 5% in Argentina.
The government was criticised at the time for being too fiscally conservative but its restraint has left national finances in better shape. It is estimated that Mexico's general government gross debt stands at 60% of GDP in 2022 compared with 90% in Brazil (the latest available figure in Argentina is 103% in 2020), according to the IMF. Mexico's general government structural balance as a percentage of potential GDP is estimated at -3.2% in 2022, compared with -7.1% in Brazil (Argentina's figure is not yet available).
Mexico enjoys its investment grade status
Mexico is one of the few Latin American economies – along with Chile, Panama and Peru – that still enjoys investment grade status. Brazil lost it in 2015 and Colombia in 2021. Mexico has also had a comparatively successful Covid-19 vaccination campaign – on 1 January, 63.5% of the population had received one dose and 56.5% was fully vaccinated. 
However, the investment climate in the country is undermined by violence and lawlessness. During 2021, it recorded more than 30,000 homicides for the fourth consecutive year.
"The Mexican economy is recovering slowly and still some way off from its starting point of our recession in 2019," says Eduardo Suárez Mogollón, vice-president of economic analysis for Latin America at Scotiabank, one of Mexico's biggest retail banks. "We had an eight-quarter recession, as opposed to only a couple of quarters in the US. Within the aggregate, some sectors are faring much better, such as agriculture and parts of manufacturing. Our recovery lost steam at the end of 2021. 
"Confidence is clearly our weakest point and it is hurting investment badly. While [investment] averaged 23% of GDP in the 2010–18 period, since the airport cancellation it has fallen to 19% of GDP. It will improve somewhat, as after three years of falling investment companies will need to ramp it up just to keep market share, but more is needed for a full recovery. Clarity is key for several sectors, as will be some changes in policy."
Andrés Manuel López Obrador – now aged 68 and often known by his initials AMLO, who represents the left-of-centre political party Morena – became the country's president in December 2018 for a six-year term, and one of his first acts in office was to cancel Mexico City's new $15bn airport, the flagship project of the outgoing president, Enrique Peña Nieto, who represented the Institutional Revolutionary Party, one of country's most powerful political parties. The airport was 30% completed and it is estimated that it cost at least $5bn to pay off investors. 
However, AMLO said the project was riddled with corruption and geologically unsound. About 70% of the project's contracts – some lasting 50 years (with the option of extending them to 100 years) – were awarded without tender. He ordered the construction of a cheaper alternative airport north of the city, overseen by the army.
The cancellation sent shock waves through financial markets and foreign investors have become increasingly concerned about the government's interventionist approach. The new administration also curtailed energy investment. It implemented a moratorium on new lease auctions for oil exploration on the grounds that it wanted to see the production results from auctions that took place during Peña Nieto's government first. 
A reduction of the private sector's role in the electricity market
Furthermore, a cornerstone of AMLO's political agenda has been the reversal of reforms allowing private participation in the electricity market. In September 2021, a constitutional reform was sent to Congress that would transform Comisión Federal de Electricidad (CFE), Mexico's state-owned electricity company, into an autonomous state entity and limit private sector participation at 46% of the electricity market. It would grant CFE and the Ministry of Energy full regulatory authority.
The private sector has been fighting back fiercely against the proposals. AMLO's reform favours pollution-producing fossil fuel power plants – such as CFE's facilities – over renewables and private sources, according to economists at the Federal Reserve Bank of Dallas. Industry analysts estimate that the measure could affect more than 150 renewable energy projects under development, representing $40bn of investment.
Mexico's electricity sector requires $1bn–$3bn each year in FDI to meet the average annual 2.7% growth in power demand, but investment nosedived to just $500m in 2019 amid uncertainty within the market, according to Coparmex, a business chamber. Some 40,924 megawatts – or 48% – of Mexico's installed capacity is operated under private-sector generation permits that would be impacted by the reforms. 
Gabriela Siller, director of economic analysis at Banco Base, a Mexican bank, said in an interview that the outflows of foreign capital in the debt market was due to "aversion to risk" in the Mexican economy. "This is due to the low growth but also government initiatives," she added. "This year we have the debate about the electricity reform, so it is highly probable that the aversion to risk and the capital flight will continue."
The US Chamber of Commerce also says it is concerned about a filing by CFE to begin arbitration with a number of infrastructure companies over pipeline contracts, arguing that the move would undermine investor confidence.
"This action risks sending a negative signal to US and other international investors about the business and investment climate in Mexico," the chamber said in a statement in 2019, calling on Mexico's government to honour "the sanctity of existing contracts". However, AMLO has defended the decision, saying the original terms of the agreements were "abusive" towards the state.
"During the past few years, Mexico has had a prudent macroeconomic framework and ­– compared with other Latin American countries – it has a relatively benign debt-to-GDP ratio," says Carlos Morales, director, Latin America sovereigns, at Fitch Ratings. "Other Latin American countries now face bigger economic challenges than it does. However, we feel that the country has three main weaknesses: firstly, weak governance, which includes concerns about security and corruption; secondly, the country's long-term growth performance has been constrained by government intervention that has impacted investment, including the proposed energy reforms; and, thirdly, the federal government has contingent liabilities stemming from Pemex, the heavily indebted state-owned oil company."
Mexico's northern states take lion's share of FDI
The majority of Mexico's foreign investment flows to its northern states close to the US border, where most of the 'maquiladoras' – export-oriented manufacturing and assembly plants – are located, or to Mexico City and the nearby states in the 'El Bajío' region, in particular Guanajuato and Queretaro. Thanks to its robust tourism industry, the Yucatán peninsula also receives substantial foreign investment.
In the past, foreign investors have mostly overlooked the country's southern states, but the current government wants to attract investment to this region. It has three big infrastructure projects: the Maya Train, the Dos Bocas refinery and the Tehuantepec isthmus logistics corridor project.
Dos Bocas is an $8bn oil refinery under construction in Tabasco state, capable of producing 170,000 barrels per day (bpd) of petrol and 120,000bpd of ultra-low sulphur diesel. It will be the country's biggest refinery, owned and operated by Pemex. Maya Train is an 1,525km, 19-station intercity railway that will traverse the Yucatán peninsula, taking in the states of Quintana Roo, Chiapas, Yucatán and Campeche. Construction began in June 2020 and it involves an estimated $9.8bn of investment. The project is led by the National Fund for the Promotion of Tourism, which has pledged to complete the first section by 2023.
The $1bn Tehuantepec isthmus logistics corridor project will link the Atlantic and Pacific oceans. It will boost the region's economy with the construction of ten industrial parks on the isthmus between Veracruz and Oaxaca states. It includes the rehabilitation of a 300km railway line and the expansion of two ports – Salina Cruz in Oaxaca and Coatzacoalcos in Veracruz – and involves highways, pipelines and telecommunications infrastructure.
Mexico is highly attractive to foreign investors due to its strategic location bordering the US and the fact that it is home to major ports serving both the Atlantic and Pacific oceans. It also benefits from a network of free trade agreements, including through the US-Mexico-Canada Agreement (USMCA) and the Pacific Alliance, an economic community that also includes Chile, Colombia and Peru. The USMCA – which entered into force on 1 July 2020 – maintained a number of the provisions of the North American Free Trade Agreement that it replaced, granting US and Canadian investors national and most-favoured-nation treatment in setting up operations or acquiring companies in Mexico. 
The country's inward FDI has remained stable since 2015, averaging about $8.7bn of new investment per quarter, according to the Federal Reserve Bank of Dallas. The US is the country's biggest investor, with an FDI stock in Mexico of more than $100bn. Almost half of foreign investment in Mexico is destined for the manufacturing sector (in particular the car industry), reflecting the importance of production integration in the US-Mexico commercial relationship. Other significant investors are Spain, Canada and Germany. Other business sectors that are attractive to FDI include financial and insurance services, retail and wholesale trade, and communications. FDI flows to the country fluctuate strongly depending on the arrival and departure of large international groups.
In 2020, Mexico became the US's third-largest trading partner in goods and services after China and Canada. Bilateral trade grew 482% between 1993 and 2020. It is the US's second-largest export market after Canada.  
"In the past, the Mexican economy has been very closely correlated with the American one," says Victor Rodríguez, president and chief executive officer at LatAm Alternatives, a financial services company based in Miami. "However, presently, its economy is not performing as well as the US. AMLO's administration has run a good Covid-19 vaccination campaign and the president is popular with the public. However, I think his government has introduced reforms that make the labour market too rigid and a lot of talented people are leaving the country. The government is just not pro-business enough."
Could companies shift factories from China to Mexico?
Nonetheless, experts say that Mexico could benefit greatly from investment in the manufacturing sector, in particular by businesses migrating from China to Mexico, so that companies based in the Asian country are in a better position to meet their supply commitments to the US. Mexico can provide the US market with better delivery stability and Chinese companies are looking at setting up plants there. Northern cities – including Ciudad Juárez, Tijuana, Reynosa, Matamoros and Piedras Negras – stand to benefit the most. Furthermore, the saturation of the ports in California and of the Panama Canal creates an opportunity for the country.
"Mexico and China have competed and also complemented each other in production processes," said Fernando Lelo de Larrea, co-founder of ALLVP, an early-stage venture capital fund, in a recent interview. "Mexico has excellent opportunities at the level of delivery at the final destination point, and China has advantages due to its plant scale and access to the Asian market.
"I think that Mexico can attract more investment and that many foreign investors only think of China in the first instance, without analysing Mexico in detail. Maybe this is the way to change this topic. China and Vietnam are ideal for serving the Asian market, and Mexico could serve the North American market."
The mining of metals is one of the industries attracting the most FDI to Mexico. Foreign investment in the sector reached $1.75bn in the first nine months of 2021, almost six times the $296m invested in the whole of 2020. Major investments include Fresnillo and MAG Silver's $440m Juanicipio silver-gold project, due to begin production in early 2022. Output is forecast at 11.7 million ounces of silver per year and 43,500 ounces of gold per year. Orla Mining also announced its first gold pour at its $134m Camino Rojo gold project in December 2021, with output expected to average 94,000 ounces of gold per year.
Mexico is brimming with investment opportunities
Mexico has good investment opportunities in an array of business sectors, including fintech, medical cannabis and e-commerce. Fintech is growing at a fast pace in Latin America, with Mexico a major hub for tech innovation in the region and Guadalajara at the centre of the country's tech innovation. With an ideal climate and available agricultural land – as well as the major markets of the US and Canada nearby – the medical cannabis sector presents many opportunities, especially as public acceptance of the product grows. Mexico is already the 17th-largest e-commerce market globally. With a large population, rapidly growing internet coverage that reached 70.1% in 2019 and the proximity of the massive US and Canadian online markets, the country offers great prospects in online sales in the future.
Tourism is another sector expected to do well in the future. Before the pandemic, the Mexican tourism industry was expected to grow by about 15% to exceed $9bn in 2021. It is now estimated that the industry could reach almost $17bn by 2025. 
Furthermore, remittances have become a significant contributor to the country's economy and reached a high of $41bn in 2020 despite the pandemic. 
"Remittances have aided Mexico's poorest, while FDI has contributed to Mexico's main engine of growth, manufacturing," said Jesus Cañas, a senior business economist at the Federal Reserve Bank of Dallas, in recent research. "Together they have cushioned the blow of declining private and public investment. Longer term, Mexico should take advantage of the relatively low interest rate cost for financing public investments in the current environment and the nation's low debt-to-GDP ratio to invest in projects that will ultimately complement private sector efforts. This also requires public policies designed to boost attractiveness for investors and thus maximise output growth."
In January 2022, Mexico was reeling from the news that Citigroup, the US banking giant, planned to exit its retail banking operations in the country – where it has its largest branch network in the world – known as Citibanamex. The bank wants to streamline its operations and focus on key markets. Analysts say that a Mexican buyer is most likely.
Mexico is still suffering from long-standing issues including corruption and violence. It has an overly interventionist government. However, it enjoys sound macroeconomic fundamentals and its proximity to the North American market creates an enormous opportunity. Many international companies want to put in place more localised supply chains in the wake of the Covid-19 pandemic and could start shifting manufacturing plants from China to Mexico.


[ad_2]

Source link