[ad_1]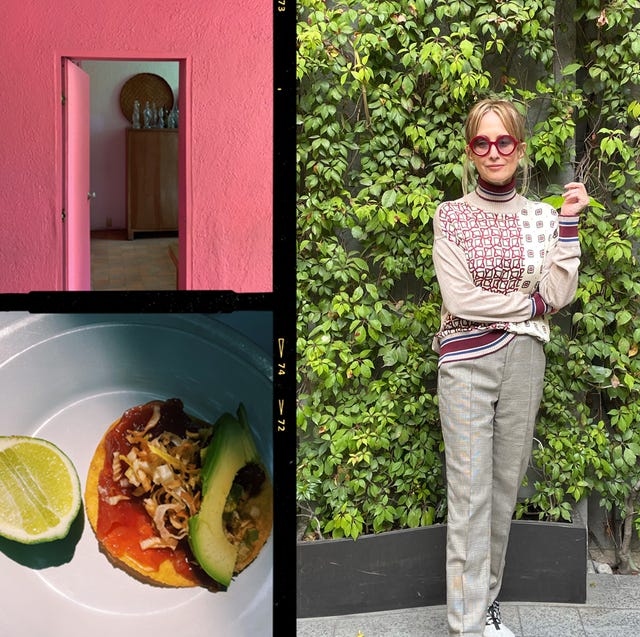 Courtesy of Silvia Tcherassi + Leah Romero
Scroll through Silvia Tcherassi's Instagram and you'll be met with a treasure trove of her inspirations, from the Red Sands desert to picturesque streets in Madrid. On her most recent trip to speak at the LuxuryLab Global Summit, the Barranquilla, Colombia-born designer, known for her effortlessly chic pieces bursting with color and personality, reignited her love for one of her favorite destinations: Mexico City—not least because of the food.
"While Mexican food can be found practically anywhere, nothing compares to actually eating in the country," Tcherassi says. As the founder and creative director of Tcherassi Hotels, this woman knows good hospitality when she sees it—and always makes time in her schedule to eat. Before speaking alongside Salvatore Ferragamo and Port de Bras founder Clarissa Egaña, Tcherassi penciled in a few essential culinary stops at Casa de la Sirenas, Contramar, and—plot twist—Sushi Iwashi in Polanco for omakase. ("The quality of fish and seafood in Mexico is otherworldly," she says.) And she documented it all exclusively for ELLE.com.
Like any good designer, Tcherassi wore her own designs throughout—the perfect advertisement for her namesake collection. Knitwear in vintage-inspired prints, easy trousers, and sneakers comprised her extremely practical travel wardrobe, fit for a range of activities including hot air ballooning. "What an unforgettable experience this was—and very worth the drive," she says. "The serenity and silence throughout the experience was profoundly magical."
Keep reading to check out Tcherassi's Mexico City photo diary.
Advertisement – Continue Reading Below
I head directly to the Four Seasons hotel, conveniently located in the Polanco district—my go-to when I am in the city because it feel like home. I could stay here all day because the service, restaurants, and overall atmosphere are fantastic.
The historic center of the city always serves as inspiration for me. I stop for a quick visit in the Palacio de Bellas Artes, whose stunning Art Nouveau architectural style never ceases to amaze me. I then visit Palacio de los Correos—the main post office—which was built in the early 1900s and is a short walk away. The interiors are a breathtaking spectacle that blends several styles, including Moorish, Spanish, and Art Deco—it all unifies together beautifully.
Overlooking the Metropolitan Cathedral and the historic center, Casa de la Sirenas is a three-story restaurant that serves traditional fare and has a gorgeous rooftop. I always like to eat Mexican food on the day I arrive.
Luis Barragán is one of my favorite architects, and his work has been a great inspiration, particularly his masterful use of color and the timelessness of his designs. Casa Luis Barragán is an obligatory stop for anyone who appreciates beauty and design. Truly iconic.
About to enjoy coffee and pastries at Pan Dulce, the French-Mexican bakery in the lobby at the Four Seasons. I order an espresso and a pain au chocolat and walk around the courtyard, while I catch up with news, work, and emails—the weather made this an especially pleasant experience.
I have been wanting to tour Javier Senosian's Casa Orgánica for some time now, as it only recently opened to the public. The whimsical structures, shapes, and the usage of space is truly remarkable and the garden is pretty special as well. Make sure to book this tour in advance—it's worth it!
Without a doubt, the Soumaya Museum and the Jumex Museum are two of my favorite museums in Latin America and, fortunately, they sit side by side. The Jumex showcases a jaw-dropping collection of contemporary works, while the vast collection at the Soumaya ranges from Mesoamerican to contemporary art. You can see important works by Mexican artists, like Diego Rivera and Rufino Tamayo, but also from the great masters, such as Rodin (pictured here) and Botticelli.
Contramar is the best place for lunch, hands down. I always eat there—the tuna tostadas are a must. It's also great for people-watching.
After lunch, I take a nice long walk around the Roma Norte neighborhood. I peek into the vintage stores, cafés, and taquerías. There are so many charming local boutiques!
The quality of fish and seafood in Mexico is otherworldly. There is such great Japanese cuisine, too. This was my first time at Sushi Iwashi, a restaurant in Polanco, and I will definitely be back.
Los Globos! On the last day, I wake up early to board a hot air balloon before my flight. I see the sunrise and the stunning Teotihuacan pyramids. The balloon colors and the skyline are so unique and breathtaking. I can't think of a better way to finish my trip!
This content is created and maintained by a third party, and imported onto this page to help users provide their email addresses. You may be able to find more information about this and similar content at piano.io
Advertisement – Continue Reading Below
[ad_2]

Source link