[ad_1]

PUEBLA, Mexico – A massive sinkhole that formed last week in southern Mexico has continued to grow, threatening to swallow a nearby farmhouse. 
The sinkhole, which appeared on May 29 on a farm in the Mexican state of Puebla, first measured about 5 meters (16 feet) in diameter and quickly grew to 30 meters (98 feet) within 24 hours, according to local reports.
Drone footage captured by Jose Castanares on May 30 shows the giant sinkhole in the town of Santa Maria Zacatepec now filled with groundwater.
Several local authorities and civil engineers have visited the site and told the local population to avoid the area. 
A sinkhole occurs when the ground below the land surface cannot support it and can happen for many reasons, according to the U.S. Geological Survey. Beatriz Manrique, the secretary of the Environment of Puebla, told local news outlets that it remains too early to know the exact cause of the sinkhole. But he added that a softening of the farmland could have caused it because the area was established over what used to be a pond or reservoir, called a "jagüey."
The Sanchez family, who lives in the nearby home, heard a loud crash when it first occurred and thought it was a lightning strike, Agence France-Presse reported. It's now coming dangerously close to the rural home and the family fears they will be left homeless.
"We have nothing. We're not from here. We have no relatives. We're alone," Heriberto Sanchez, originally from the southeastern state of Veracruz, told the media, according to AFP.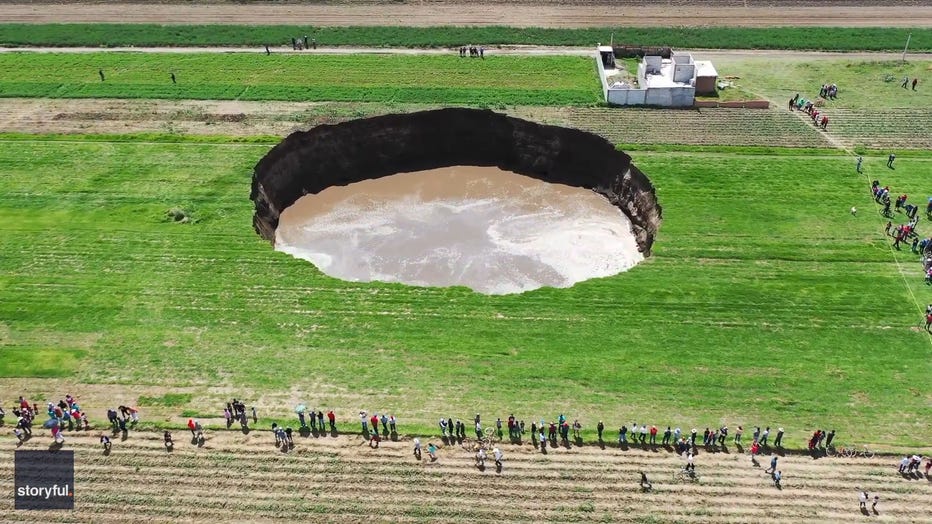 Aerial footage shows the giant sinkhole in Santa Maria Zacatepec, Puebla, Mexico, on May 30, 2021. (Credit: Jose Castanares / Agencia EsImagen.mx via Storyful)
Puebla Gov. Miguel Barbosa said the authorities would compensate those impacted by the sinkhole. 
"It will grow until nature decides when the water stops exerting pressure," Barbosa said, according to the AFP. "The important thing now is public safety."
Last year, a massive sinkhole opened in central Florida and took down traffic lights with it. Another sinkhole in Pennsylvania swallowed a large SUV in a moment captured on home surveillance video.
In the U.S., the most damage from sinkholes tends to occur in Florida, Texas, Alabama, Missouri, Kentucky, Tennessee and Pennsylvania, the USGS said.
This story was reported from Cincinnati.
 


[ad_2]

Source link